Shareholder Letter
Dear Shareowners,
Commitment is the word that comes to mind when I look back at 2022 and all that we accomplished as a team. For the first time in our history, we were able to honor our commitment and deliver a transformative therapy to patients with the potential to change how generalized myasthenia gravis (gMG) is treated. It was also our first opportunity to show our ability to execute commercially in the same way we have in developing breakthrough pipeline candidates. We had an ambitious task before us to launch VYVGART globally and bring our first-in-class immunology innovation to people living with gMG. We are proud to say we accomplished what we set out to do, thanks to the unwavering commitment demonstrated by our team of Argonauts.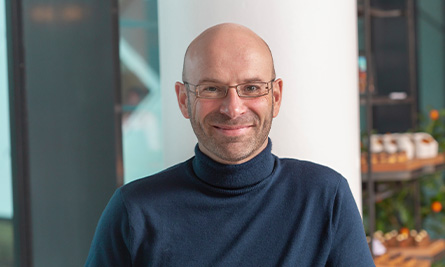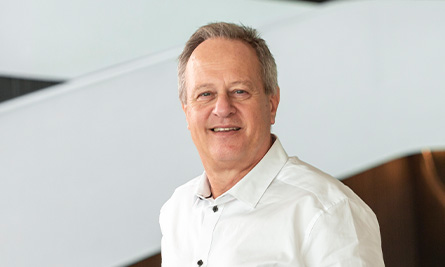 It was a year of pivotal growth for us as an organization as we broadened our core capabilities to launch VYVGART in the U.S., Japan and Europe. We expanded our teams and our global reach, while maintaining a strong connection among our employees through our unified commitment to our patients and their supporters. This commitment helped drive our strong commercial performance in the first year of launch – generating over $400 million in net sales globally. Our strategies to engage and activate our key stakeholders were the right ones to empower patients to demand better, and to provide what we believe is best-in-class patient support, drive rapid physician adoption of VYVGART and enable broad and appropriate access to this important therapy.
The stories we hear from patients continue to inspire our everyday work and fuel us on our mission to reach argenx 2025. We heard from a woman living with gMG, who loved to garden before her diagnosis but had to give it up because of her symptoms. We talked to another patient who had not been able to travel to see her family because she was not able to physically sit on a plane. There are gMG patients who can no longer walk or hold a job, or who had lost their love of food because of difficulty swallowing. In the first year of our VYVGART launch, we were motivated by the significant unmet needs of all of these patients and were humbled to be able to bring another treatment option to the gMG community.
We will be prepared in the year ahead to bring another first-in-class treatment option to the gMG community with the expected launch of our subcutaneous formulation of efgartigimod, anticipated in June 2023. We know gMG presents itself differently for each person and want to offer multiple ways in which patients can individualize their treatment to their unique experience.
2022 was also the first year where our innovation mission and commitment to patients truly intersected, bringing our vision of redefining the treatment of autoimmunity to life. This was clearly demonstrated by the progress we made across our pipeline, advancing our clinical trials one step further. We reported positive pivotal data from our second autoimmune indication, immune thrombocytopenia (ITP), in May and presented these data during a plenary session at the American Society of Hematology annual meeting. We initiated several clinical trials and are evaluating efgartigimod in ten autoimmune indications with three more to start this year. We are set up for a busy 2023 and are expecting five clinical data readouts from efgartigimod and ARGX-117.
Through our commitment to both science and the patient, we are always striving to better understand and learn about the clinical findings we observe, which is perhaps best demonstrated by our 'bedside to bench' approach. In 2022, we produced and published on new breakthrough translational biology that emerged from our Phase 2 clinical trial in pemphigus and may show a potential disease-modifying mechanism for efgartigimod. These data were presented at the Society for Investigative Dermatology in May 2022.
We are excited to continue to demonstrate our commitment to innovation in 2023 and beyond as we progress closer to 'argenx 2025'. This is our core mission – simply put. We want to seek out breakthroughs in immunology and bring them to patients. We see real innovation, real impact as the only way to revolutionize the way autoimmunity is treated. We believe that when you follow scientific breakthroughs to meet the needs of patients – the opportunity is limitless.
Thank you first to the patients and their families who inspire us, to our shareholders for your continued support and belief in our mission, and to our employees for your commitment and passion every day. We are very proud of the progress we continue to make and are confident that we can achieve even more in the year to come.
Sincerely,
Tim Van Hauwermeiren & Peter Verhaeghe